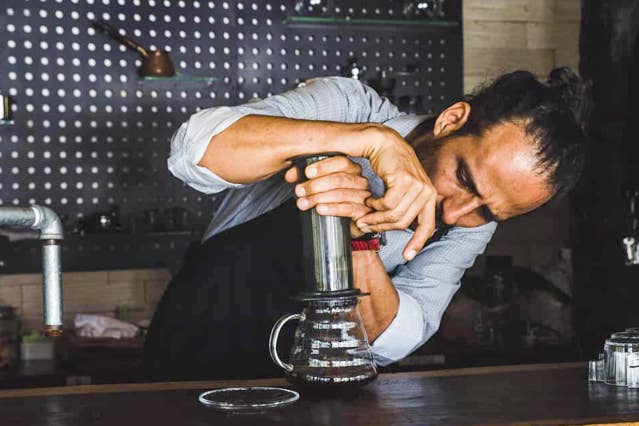 What we'll do
You will learn introductory barista skills, preparing your own fresh-roasted, LIVE COFFEE.
We'll cover:
- a brief history of coffee
- a brief history of brewing coffee - details about 4+ brew methods
- hands-on practice brewing with a specialty coffee shop brew method
- specifics such as grind type, ratios, flavor profiles, temperature, brew times, etc...
Finally, you'll get to take a 100-gram bag of fresh-roasted coffee home with you! 🙂
What I'll provide
Drinks
We'll have 3 varieties of coffee from around Mexico to try.
Equipment
We'll provide all the equipment we need for brewing delicious cups of coffee.
What to bring
Swimsuit and towel... there is a beach club right on the beach to enjoy afterwards if you wish.
Extra cash... you might want to take coffee home as gifts. The restaurant onsite also has great food options.
Camera... you'll want to take photos of this fun experience!
Where you'll be
We'll be brewing and preparing LIVE, fresh-roasted coffee in a real coffee shop located right on the beach in Tulum!
What else you should know
Perhaps bring a little cash in case you would like to purchase some bags of fresh-roasted coffee to take home. Makes a great souvenir for families and friends!
Value | 50 USD per person
Review by Courtney
"My partner and I did the barista experience while on vacation in Tulum. It was such a highlight! The shop is on a relatively quiet beach so we were able to have lunch there and sunbathe before our class. AJ, our instructor, was top-notch. He really understood a ton about coffee and it's processes, allowed me to take pictures and write notes and answered our endless questions with patience. You can tell he is very passionate about his craft and that made the experience excellent. The coffee itself was absolutely delicious...I've learned to never settle for stale coffee again! Thank you AJ and Laura!" (June 2019)
Tuesday:
Wednesday:
Thursday: