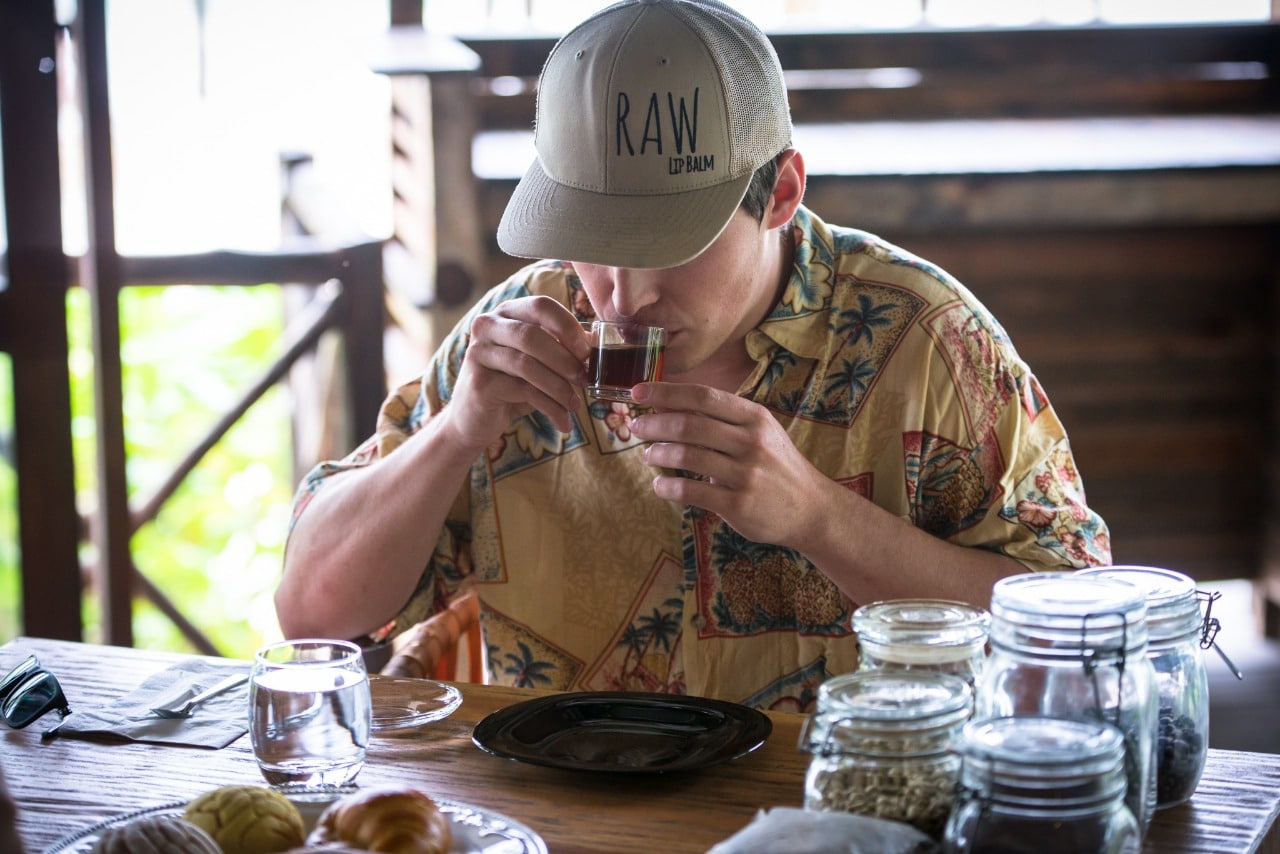 FRESH-ROASTED, MEXICAN COFFEE TASTING
TULUM, MEXICO | ST. LOUIS, MO USA
Location: Brew Tulum Specialty Coffee Experience
Duration: 1.5 hours
What's Included: Tasting of various, fresh-roasted Mexican coffee varieties + Mexican sweet bread
What you'll do
We'll be exploring the world of Mexican coffee through smell and taste... delighting in a variety of fresh-roasted, LIVE COFFEE offerings including:
100% Arabica coffee - cultivated with organic and natural processes

high-altitude varieties

shade-grown - in the volcanic highlands and cloud forests of Mexico

exclusive, micro-lot selections
You will also try:
"Cafe de Olla:" traditional Mexican-spiced coffee

Cold brew coffee
In addition, you will learn about:
more than 3 different methods used in the preparation of coffee

how each method changes the flavor and profile of the coffee

the ideal proportions of coffee and water for each method of preparation

the ideal grind for each preparation/method
What we'll provide
Coffee for tasting
Mexican sweet bread
What to bring
Craving for coffee!
Please send us a quick note letting us know how you prepare coffee at home: traditional coffee machine, french press, Italian Moka pot, espresso machine... perhaps you have your own grinder and like to purchase whole beans?
About your hosts
We are your local coffee roasters in the Riviera Maya, Mexico and in St. Louis, MO! Coffee aficionados ourselves, upon arriving in the Mexican Caribbean we were perplexed to find that fresh-roasted coffee is not easy to come by... especially considering that Mexico is home to excellent, specialty-grade organic coffee varieties! Thus, we proudly fresh-roast coffee in our 12-kilo and 20-kilo roasters in Tulum and in our 5-kilo and 10-kilo roasters in St. Louis, MO. Our premium and specialty-grade beans are carefully sourced from coffee farms throughout Mexico. The beans arrive fresh, raw and green so that we may lovingly nurture their transformation into freshly-roasted, LIVE coffee goodness.
What else you should know
Perhaps bring a little cash in case you would like to purchase some bags of fresh-roasted coffee to take home. Makes a great souvenir for family and friends!
Canceling
You can cancel within 24 hours of booking or up to 2 days before the experience start date to get a full refund.
Rescheduling
You can reschedule the date or time of your experience up to 48 hours before the experience start time.
Canceling a rescheduled experience
If you reschedule an experience, it can be canceled for a full refund within 24 hours of the original booking time or up to 2 days before the original start date.
Weather
We can host indoors so we can enjoy the coffee tasting rain or shine! 🙂 Should bad weather conditions create an unsafe scenario, we may reschedule or cancel the experience, providing an appropriate refund.
Value | 50 USD per person
Review by Jessica
"This coffee tasting experience was truly a highlight of our entire visit to Tulum. AJ shared his amazingly delicious, super-fresh, live Mexican coffee with me and my husband and even inspired me to roast green coffee beans at home. The class was the perfect length, and we tried several different types of coffees and brew methods. Plus, we enjoyed a delicious complimentary pastry while we were waiting to begin. It didn't hurt that the entire experience took place on a shaded deck right on the beach!! Breezy beach + LIVE, fresh-roasted coffee = Heaven! My husband and I both love coffee and we walked away with so much knowledge and a tremendous appreciation for what AJ and Laura are doing at Brew Tulum. This is a MUST-GO experience for anyone visiting Tulum who enjoys coffee! We hope to return someday, and really hope perhaps AJ and Laura will decide to open a coffee shop in the US (preferably St. Louis...come on, Laura! :)" (June 2019)
"Laura and AJ made my boyfriend and I a delicious range of different coffee roasts made with different brewing methods. We were able to try the different styles and honestly some of the devices to make coffee were ones I had never even heard of! It was a fun experience and within seconds you can
…
"Laura and AJ made my boyfriend and I a delicious range of different coffee roasts made with different brewing methods. We were able to try the different styles and honestly some of the devices to make coffee were ones I had never even heard of! It was a fun experience and within seconds you can tell how passionate they both are about their coffee craft, it was truly a special experience that I would 100% recommend anyone visiting Tulum do. Their coffee hands down beats any cup of coffee from any other coffee shop. We were even given a small sample batch from a roast they made to enjoy back home in Toronto!" (Aug 2019)