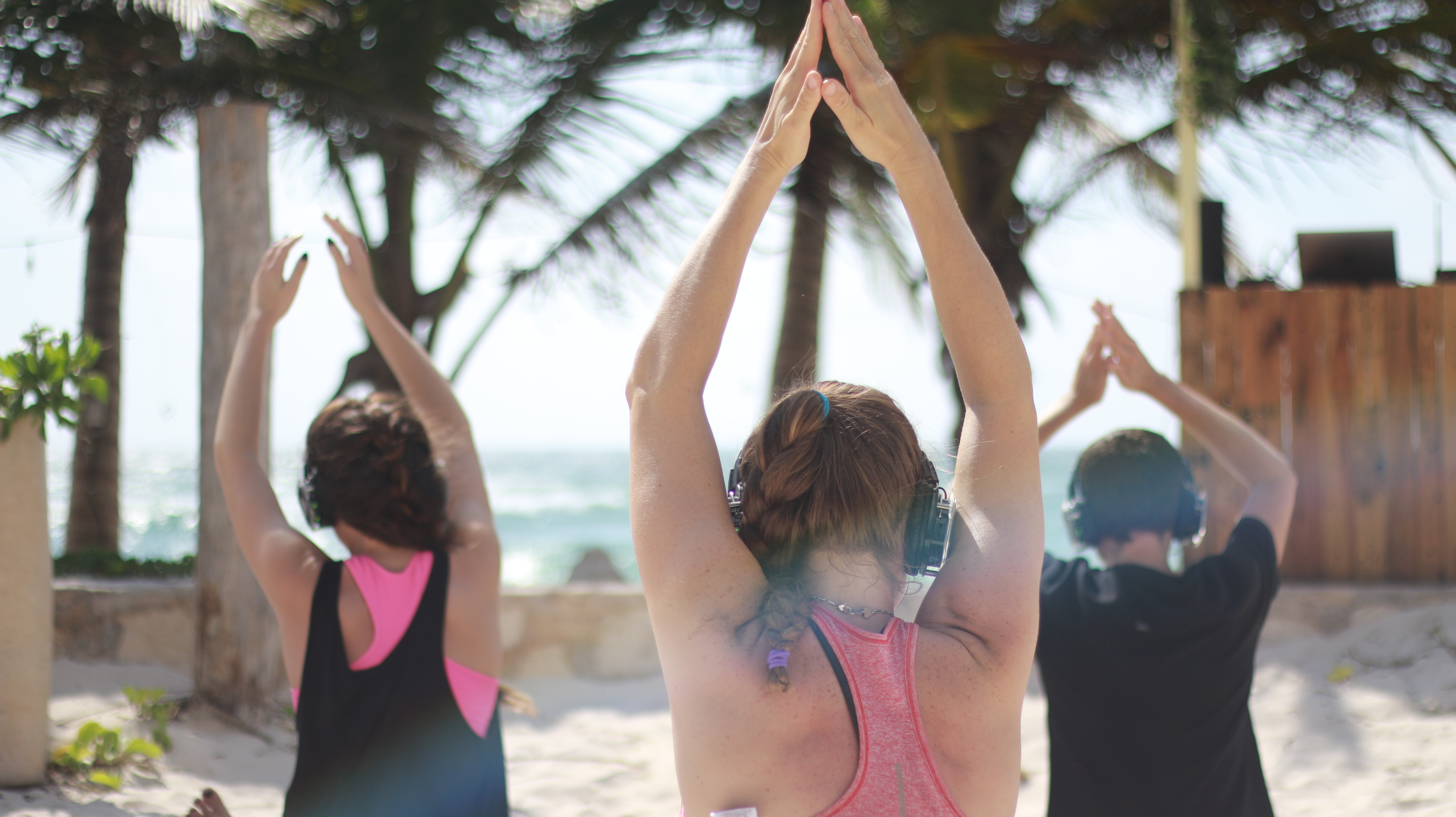 What we'll do
Join me for the perfect "morning mix" to start your day in the tropical paradise of Tulum: BEACHFRONT YOGA + MUSIC + LIVE COFFEE + HEALTHY BREAKFAST.
First, we'll delve into an immersive music session as we warm-up and energize together during our hour-long morning Vinyasa flow Yoga practice led by Lily. Along with Lily's guidance and instructions, the music will be streaming to us through wireless headphones we'll wear during the yoga practice. This unique music + active meditation blend, allows us to bring the focus inward, blocking out external distractions as we flow through our yoga movements. Erik, our DJ, will curate locally influenced music that perfectly fits the flow of our practice, creating a unique and organic experience each time. It's an amazingly immersive experience we'll enjoy together on the beach, under the swaying palm trees... Now that we've fed our mind and souls, it's time to feed our bodies! After our beachfront yoga practice, we'll sit together to enjoy a cup of LIVE, (fresh-roasted, specialty-grade) Mexican coffee and jar of yummy, nutritious overnight oats.
From there, you're welcome to stay and enjoy our beach club or venture on, discovering more...
What I'll provide
Snacks and Other
Overnight Oats: choose one of three variations -Paradise Oats, Peanut Butter Bliss or Apple Pie Oats. A cup of our Green Guayaba Sublime Smoothie served before the yoga class to jumpstart our bodies with a nutritious boost.
Drinks
Fresh-roasted, LIVE, Mexican, Specialty-grade Coffee
Equipment
Yoga mats/blankets and wireless headphones
What to bring
Comfortable clothing in which you can easily move and flow.
Camera for taking pictures of your tropical beach surroundings.
Swimsuit/towel for taking a dip in the emerald and turquoise waters of the Mexican Caribbean after yoga, coffee and breakfast.
A little extra cash in case you wish to take some LIVE, Mexican Coffee home as a souvenir... or you wish to try some authentic Mexican an tamales (the "food of the gods").
Value | 35 USD per person
Review by Laura
"Thank you, Laura, for hosting an amazing experience!! The beach yoga & LIVE coffee event exceeded our expectations and we cannot recommend this enough! The information and directions were very clear and easy to follow. We arrived at a beautiful coffee shop on the beach for fresh made green juice. Lily then led us through a lovely yoga flow on the beach under the palm trees. I love that she really geared it towards all levels. I am an experienced yoga teacher & brought my bf who has never done yoga, and we both really enjoyed the class! Also, Lily's partner dj'ed the music to the class and we were given headphones so it was easier to hear the music and the teacher. Such a great idea! The combo of yoga, music, on the beach, with the waves and the sun was magical! Then, we got an amazing experience learning about live coffee and were shown how to make it authentically. The coffee was some of the best I've ever had and I learned a lot!! Of course I bought some to take home too. 🙂 Everyone was super friendly and I'd highly recommend the experience!" (June 2019)
Tuesday:
Wednesday:
Thursday:
""This was an absolutely amazing experience. Lily was our yoga instructor and it was a wonderful flow!! Perfect way to start off our day! The music by Eric during our session made it such an immersive experience!! Laura and AJ make some of the most spectacular coffee….seriously will completely change how you see coffee. A
…
""This was an absolutely amazing experience. Lily was our yoga instructor and it was a wonderful flow!! Perfect way to start off our day! The music by Eric during our session made it such an immersive experience!! Laura and AJ make some of the most spectacular coffee….seriously will completely change how you see coffee. A must try experience." (Oct 2019)